The safety features included in electric fireplaces may vary depending on the model and manufacturer, but here are some common safety features that you can typically find:
    Automatic Shut-off Timer: Most electric fireplaces come with an automatic shut-off timer, allowing you to set a specific time for the fireplace to turn off. This feature helps prevent accidental overheating and ensures that the fireplace doesn't run when not needed, saving energy and enhancing safety.
    Overheat Protection: Electric fireplaces are equipped with overheat protection mechanisms that monitor the internal temperature of the unit. If the fireplace gets too hot, the system will automatically shut off to prevent damage or potential hazards.
    Cool-to-Touch Exterior: The outer surface of electric fireplaces remains cool to the touch even while the fireplace is in operation. This prevents accidental burns and makes them safer to have around pets and young children.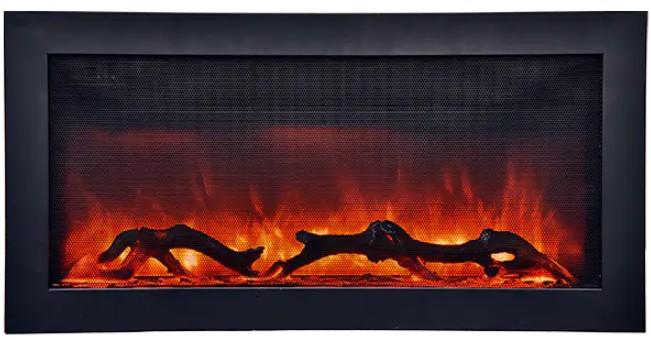 Tip-Over Protection: Some electric fireplace models have a tip-over safety switch that automatically shuts off the unit if it gets knocked over or tilted beyond a certain angle. This feature is essential for preventing accidents and potential fire hazards.
    Child Lock: Certain electric fireplaces offer a child lock feature, accessible through a control panel or remote. When activated, this feature prevents children from adjusting the settings or turning on the fireplace without adult supervision.
    Flame-only Mode: Many electric fireplaces have a flame-only mode, which allows you to enjoy the visual ambiance of the flames without generating heat. This feature is especially useful during warmer months when you want the aesthetics without the added warmth.
    Certification and Compliance: Reputable electric fireplace manufacturers ensure that their products meet safety standards and certifications. Look for certifications from recognized organizations like UL (Underwriters Laboratories) or CSA (Canadian Standards Association) to ensure the product adheres to safety guidelines.
It is essential to review the user manual and product specifications of the specific electric fireplace you are considering to understand the safety features it offers fully. Remember to follow the manufacturer's guidelines for safe installation, operation, and maintenance to maximize the safety and enjoyment of your electric fireplace.