In a world where sustainability and environmental consciousness are at the forefront, individuals are continually seeking innovative and eco-friendly solutions for their everyday needs, including home heating. Pellet fireplaces have emerged as a smart and sustainable way to keep your home warm while reducing your carbon footprint. In this article, we explore the benefits of pellet fireplaces and why they are considered a green heating choice for those aiming to embrace a more environmentally friendly lifestyle.
Efficiency in Energy Use
One of the primary reasons pellet fireplaces are celebrated as a green heating option is their exceptional energy efficiency. Unlike traditional wood-burning fireplaces that can be notoriously inefficient, pellet fireplaces are designed to burn specifically manufactured wood pellets. These pellets are highly compressed, consistent in size, and devoid of the moisture commonly found in traditional firewood. This results in more efficient combustion, with minimal waste and emissions.
The combustion process in pellet fireplaces is highly controlled and automated, which means that the majority of the energy contained in the pellets is converted into heat, leaving very little ash or particulate matter behind. This efficiency significantly reduces the environmental impact compared to conventional wood-burning stoves or fireplaces.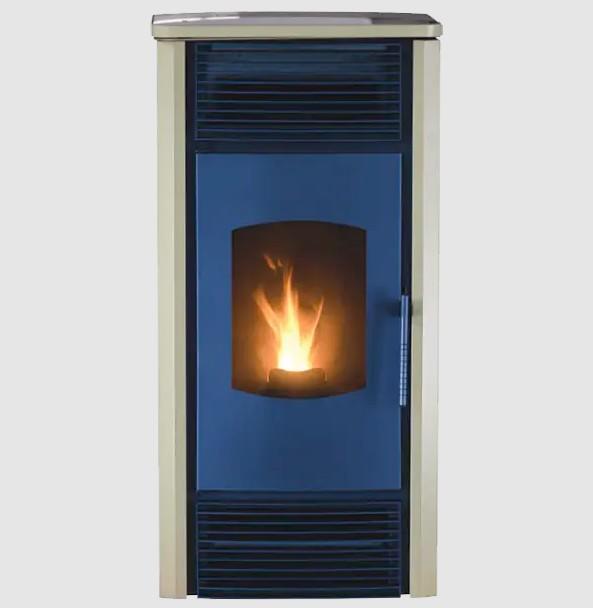 Renewable Fuel Source
Wood pellets, the fuel used in pellet fireplaces, are typically made from sawdust and wood shavings, often sourced from sawmills and lumber yards. This makes them a renewable and sustainable resource, as the demand for wood pellets promotes responsible forestry practices and proper forest management. Unlike fossil fuels, which are finite resources and contribute to greenhouse gas emissions when burned, wood pellets have a lower environmental impact.
Lower Greenhouse Gas Emissions
Pellet fireplaces produce substantially fewer greenhouse gas emissions than traditional heating options, such as oil or natural gas furnaces. This reduction in emissions is largely due to the use of a renewable fuel source and the high combustion efficiency of pellet stoves. By choosing a pellet fireplace, you are actively participating in the effort to combat climate change by reducing your carbon footprint.
Minimal Air Quality Impact
The combustion of wood pellets in pellet fireplaces produces fewer air pollutants compared to other wood-burning options. The tightly controlled combustion process and the absence of moisture in pellets result in minimal smoke and particulate matter emissions. This not only contributes to cleaner indoor air quality but also helps reduce outdoor air pollution, benefiting both your home environment and the broader community.
Zone Heating and Energy Savings
Pellet fireplaces offer zone heating capabilities, allowing you to focus the warmth on specific areas of your home, rather than heating the entire house. This targeted heating approach helps reduce energy consumption and heating costs. By using a pellet fireplace, you can maintain comfortable temperatures in the rooms you use the most while keeping others cooler, which can translate into significant energy savings.