In the pursuit of sustainable living and a reduced carbon footprint, homeowners are increasingly turning to innovative solutions that align with eco-friendly practices. Electric fireplaces have emerged as a prime example of this trend, offering a range of benefits that not only provide warmth and comfort but also contribute to a greener lifestyle. Here's a closer look at how electric fireplaces are becoming the go-to choice for eco-conscious individuals seeking environmentally friendly heating alternatives.
1. Zero Emissions
Unlike traditional wood-burning fireplaces, which emit smoke, particulate matter, and other harmful pollutants into the air, electric fireplaces produce zero emissions. This is a crucial factor in reducing air pollution and improving indoor air quality. With electric fireplaces, there's no need to worry about the negative environmental impact associated with burning wood or fossil fuels.
2. Energy Efficiency
Electric fireplaces operate with impressive energy efficiency. They convert the electricity they consume into heat with minimal waste. In contrast, wood-burning fireplaces are notorious for losing a significant portion of their heat energy through the chimney. By choosing an electric fireplace, homeowners can make the most of their energy consumption, translating into reduced energy bills and less strain on power resources.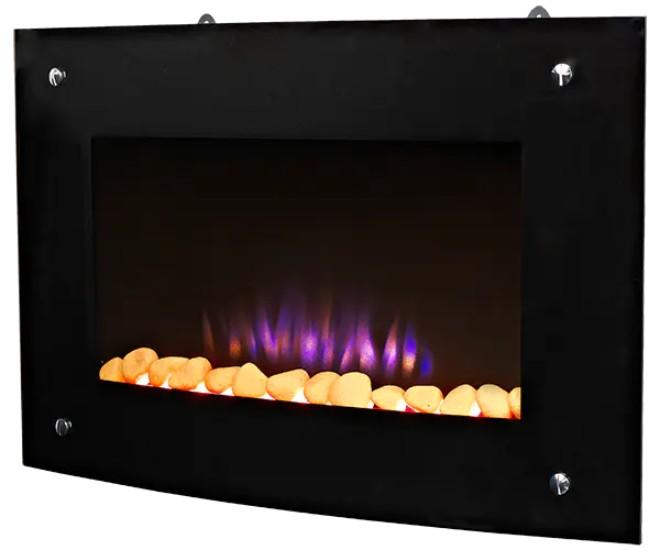 3. Reduced Resource Depletion
The use of traditional fireplaces often relies on the consumption of wood or other fuels, contributing to deforestation and resource depletion. Electric fireplaces eliminate the need for such resources, making them a sustainable choice that conserves forests and preserves natural habitats. By embracing electric fireplaces, homeowners can indirectly contribute to the protection of biodiversity and ecosystems.
4. Efficient Zone Heating
Electric fireplaces offer a unique advantage in the form of zone heating. This approach allows homeowners to heat specific rooms or areas of the house without having to warm the entire space. By directing heat only where it's needed, electric fireplaces prevent unnecessary energy wastage. This capability not only enhances comfort but also aligns perfectly with the principles of energy conservation.
5. Minimized Carbon Footprint
With their energy efficiency, lack of emissions, and reduced resource consumption, electric fireplaces contribute to a minimized carbon footprint. As the world strives to combat climate change, making small changes like opting for electric heating solutions can collectively have a significant positive impact. By incorporating electric fireplaces into their homes, individuals can actively take part in the global efforts to reduce greenhouse gas emissions.
6. Renewable Energy Compatibility
For those who have adopted renewable energy sources like solar panels, electric fireplaces offer an even more sustainable heating option. When powered by clean energy generated from the sun or wind, the carbon footprint of electric fireplaces can be virtually eliminated. This synergy between renewable energy and electric heating represents a powerful combination in the journey toward a greener future.
Conclusion
In a time when environmental consciousness is at the forefront of societal concerns, electric fireplaces provide an avenue for homeowners to align their heating choices with their commitment to eco-friendly living. By embracing these technologically advanced alternatives, individuals can enjoy the warmth and ambiance of a fireplace while contributing positively to the environment. As the popularity of electric fireplaces continues to grow, so does the potential for a more sustainable and greener way of life.