Incorporating cutting-edge technologies, modern
electric wall-mounted fireplaces
redefine the traditional heating experience with a focus on functionality, safety, and user engagement. 
Dynamic Flame Simulation:Harnessing advanced LED technology, modern electric fireplaces deliver a remarkably authentic flame simulation. These flames replicate the natural movement and appearance of real fire, creating a visually stunning and genuine ambiance.
Customizable Flame Effects and Colors:Offering a high degree of personalization, many modern electric fireplaces allow users to tailor flame effects and colors. Adjusting brightness, intensity, and selecting from a range of colors enable users to align the visual aesthetics with their mood and interior décor.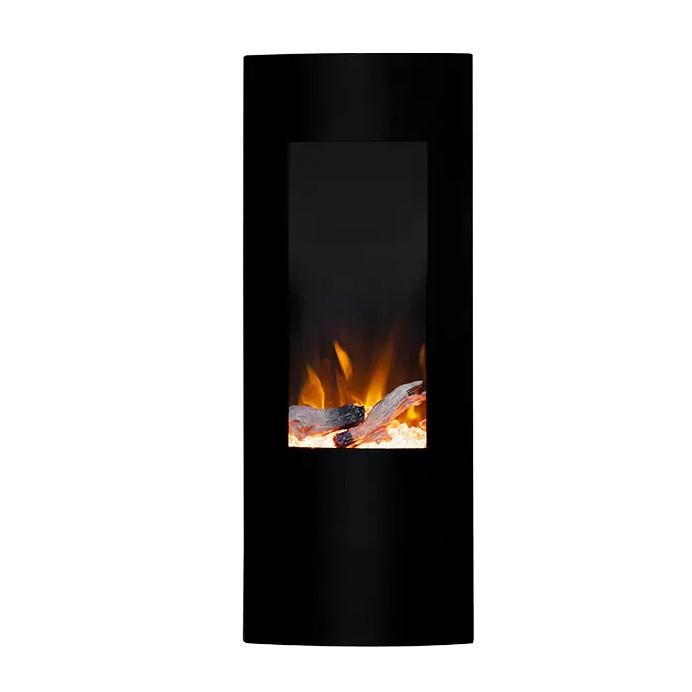 Multi-Color LED Backlighting:Elevated by multi-color LED backlighting, contemporary electric fireplaces introduce dynamic visual effects. This feature empowers users to change the backlighting, adapting to the room's ambiance or creating a focal point with a spectrum of color options.
Efficient Heating Technologies:Incorporating advanced heating technologies, such as infrared or ceramic elements, modern electric fireplaces ensure efficient and consistent warmth distribution. These technologies prioritize quick heating responses while maintaining energy efficiency.
Zone Heating Capabilities:Some electric fireplaces feature zone heating functionality, enabling users to independently heat specific areas or rooms. This not only enhances energy efficiency but also provides targeted heating where it is most needed.
Smart Home Integration:Equipped with smart home integration, many modern electric fireplaces seamlessly integrate with smart devices, allowing for convenient and remote operation through smartphones or voice-activated assistants.
Intuitive Touchscreen Controls:User-friendly touchscreen controls have become a standard feature in modern electric fireplaces. This intuitive interface facilitates easy adjustments to settings, temperature, flame effects, and lighting with a simple touch.
Thermostats and Temperature Control:Integrated thermostats and temperature control systems ensure precision in heating. Users can set their desired temperature, and the fireplace will autonomously adjust its output to maintain a comfortable environment.
Energy-Saving Modes:Prioritizing energy efficiency, modern electric fireplaces often incorporate energy-saving modes. These may include programmable timers, eco-friendly settings, and the ability to heat a room without activating visual flame effects.
Overheat Protection:Advanced safety features, such as overheat protection, automatically shut down the fireplace in the event of excessive heat. This safeguards users and prevents potential damage to the unit.
Remote Control Functionality:The inclusion of wireless remote controls is a common technological enhancement, allowing users to conveniently adjust settings from a distance, enhancing overall user experience and ease of operation.
Quiet Operation:Advanced motors and components contribute to the quiet operation of modern electric fireplaces, ensuring that the ambiance created by the fireplace remains undisturbed by noisy fan or heating elements.
Built-in Air Purifiers:Some electric fireplaces integrate built-in air purifiers to enhance indoor air quality, providing an additional dimension to a healthier living environment.
Flame Speed and Movement Settings:Users often have the ability to customize the speed and movement patterns of the flames, enabling a personalized visual experience that aligns with individual preferences.
Wi-Fi Connectivity and App Control:Leveraging Wi-Fi connectivity, modern electric fireplaces offer remote control capabilities through dedicated smartphone apps. Users can manage various settings, including flame effects, heating, and scheduling, directly from their mobile devices.
Collectively, these technological innovations position modern electric wall-mounted fireplaces as not just efficient heating solutions but also sophisticated and customizable elements that elevate the overall ambiance of any space.